Dental Implants – Jefferson, OH
The Advanced, Stable Way
to Restore Your Smile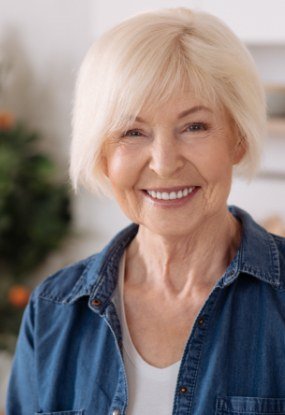 Dental implants in Jefferson are a modern solution to tooth replacement that many people choose because they're looking for a longer-lasting, stronger, or more natural looking and feeling restoration. Due to their unique structure, they are able to restore the entire portion of missing teeth, including the roots, which makes it feel as though you've regained your natural smile again when the treatment is complete. You can learn more about dental implants from our Jefferson, OH dentist by contacting our dental office today to schedule a consultation.
Why Choose Painesville Dental Group for Dental Implants?
Start-to-Finish Dental Implant Treatment
Cone Beam CT Scanning Technology for Precise Planning
Additional Financing Through CareCredit
What are Dental Implants?
Dental implants themselves are small titanium posts that are placed below the gumline to restore the missing root structure of a tooth. Due to their biocompatible nature, the implants are able to fuse with the jawbone through a process called osseointegration, which provides the restoration that will be secured to them with unmatched stability and strength. This process also distinguishes dental implants from traditional restorative procedures, allowing them to offer a wide array of unique benefits.
The 4-Step Dental Implant Process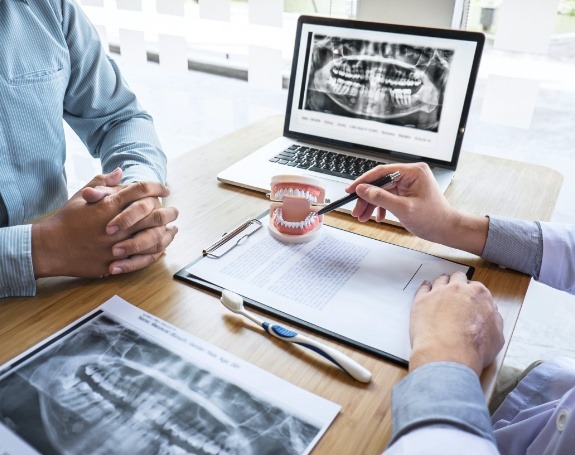 Dental Implant Consultation. During the consultation, our team will collect necessary diagnostic information to be able to determine whether you are a good candidate for the treatment. We will also discuss your medical history and any goals you would like to meet once the process is complete.
In-House Dental Implant Surgery. At Dental Group of Jefferson, our dentists have gone through additional training to allow them to place dental implants in-office, so your entire procedure will be completed by the same, trusted team that you started it with.
Osseointegration & Abutment Placement. Once the implants are placed, they will fuse with the jawbone through a process called osseointegration. After you have healed from your surgery, we will attach small, metal connector pieces to the implants called abutments.
Placement of the Final Restoration. Lastly, as soon as we receive your final restoration from our laboratory, we will attach it to your abutments and complete your smile.
Benefits of Dental Implants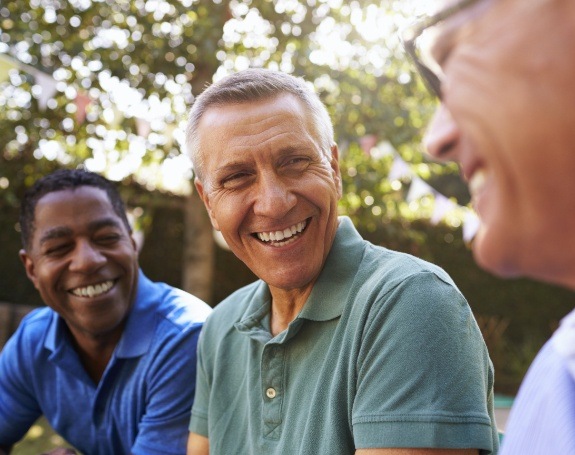 Dental implants offer several unique benefits that makes them more desirable of a treatment than traditional tooth replacement solutions for many patients, including:
Preservation of jawbone structure and improved oral health.
Prevention of sagging and hollow-looking cheeks.
Easy to maintain.
95% treatment success rate after 10 years of placement.
Ability to last over 35 years with proper care.
Enhanced eating and speaking abilities.
Natural looking and feeling replacement teeth.
Who Can Dental Implants Help?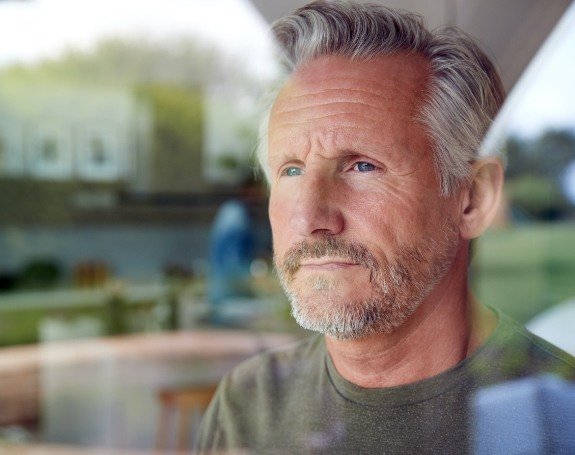 Not every patient who has suffered from tooth loss is a great candidate for the dental implant procedure right away. In many cases, we need to conduct preparatory procedures to make sure that the gums and jawbone are healthy and strong enough to successfully support the implants. For those who have chronic autoimmune diseases, like diabetes, we may work closely with your primary care physician to ensure your condition is under control and you'll be able to make a full, quick recovery after your surgery. In any case, the best way to learn whether dental implants are for you is to schedule an initial consultation with our team. During this visit, we'll walk you through how we plan to rebuild your smile with dental implants.
Missing One Tooth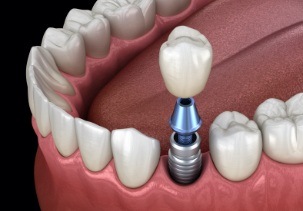 To replace one tooth, we'll secure a single dental implant below the gumline and into the jawbone. Once it has healed and fused with the bone, we'll secure an abutment followed by a customized dental crown to restore your arch of teeth.
Missing Multiple Teeth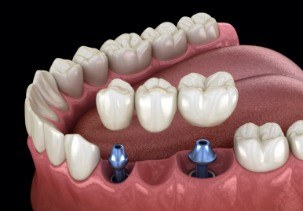 Instead of having to alter your natural teeth to place a traditional dental bridge, we can secure one to two dental implants placed on either side of the gap in your smile. Once healed, we'll attach the bridge to the implants to complete your arch of teeth.
Missing All of Your Teeth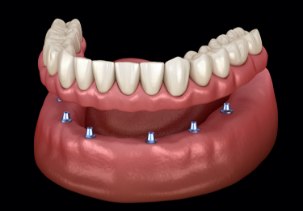 Many patients complain about traditional dentures because they can slip or shift in the mouth. When they're secured to anywhere from four to eight dental implants, you won't have to worry about this happening.
Understanding the Cost of Dental Implants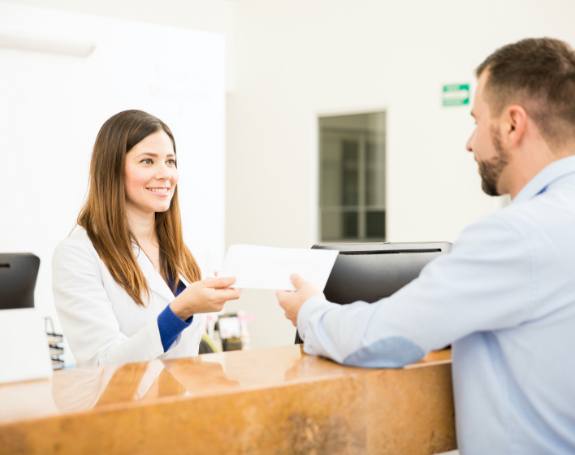 Every dental implant treatment differs depending on each patient's unique needs, like how many dental implants you need to have placed and what type of restoration you require. Based on these details, which we'll be sure to discuss with you during your initial consultation, we will outline a detailed treatment plan so you know exactly what to expect. Our team tries to make the process as affordable as possible, and we proudly partner with CareCredit to offer flexible, low-interest financing as well.