Dentures – Jefferson, OH
Rebuild Your Smile to Improve Its Function & Health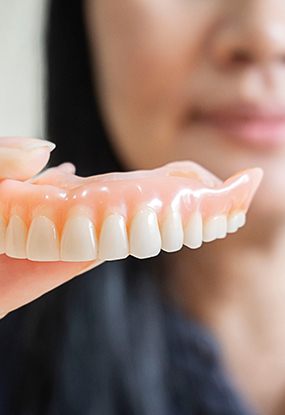 Missing several or all of your teeth can have a drastic impact on your health and day-to-day life. Whether your tooth loss is the result of an accident, lingering oral health problems, or other dental concerns, our team at Dental Group of Jefferson can restore it to its former glory with full or partial dentures. If you're suffering from tooth loss and would like to learn whether you're a good candidate for this procedure, call our office today to schedule a consultation.
Why Choose Dental Group of Jefferson for Dentures?
Multiple Convenient Office Locations
We Use Advanced Dental Technology
Experienced Team of Two Dentists
Who is a Good Candidate for Dentures?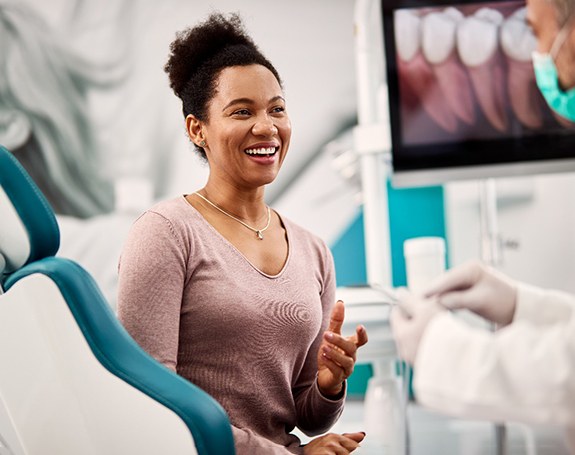 Dentures in Jefferson are an excellent option for those who are missing either several or an entire row of teeth, as their unique design helps rebuild smiles in these situations. However, the best way to determine whether you're a good candidate for dentures is to schedule a consultation with either one of our skilled dentists, Dr. Hammond or Dr. Pichler. Once our team has a chance to examine your smile and ask you a little more about your restorative dental goals, we'll be able to make the best treatment recommendations for your needs.
Types of Dentures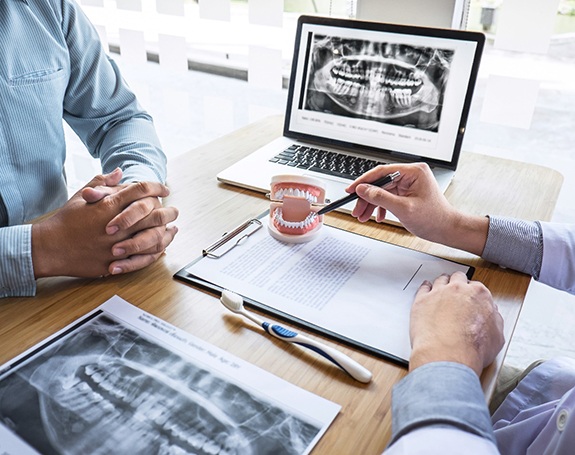 Depending on your unique tooth loss situation, as well as other factors, like your jawbone density and oral health status, our team may recommend any of the following denture treatments to you.
Partial Dentures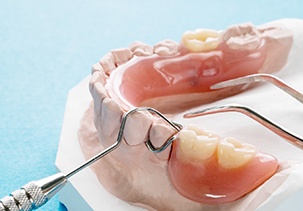 Partial dentures are designed to fit like a puzzle piece between your existing teeth to replace several gaps throughout your arch. They're typically crafted from a metal base that holds gum-colored acrylic and natural-looking ceramic teeth. They're also removable, making cleaning them a breeze.
Full Dentures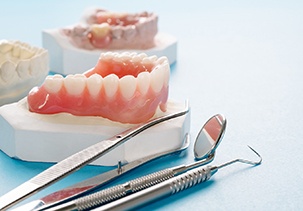 Full dentures are crafted to fit atop the gumline and utilize natural suction within the mouth to stay in place. The base is crafted from a gum-colored acrylic, while the replacement teeth are made from natural-looking, durable materials like ceramic. To help with stability, denture adhesive can also be used to make eating and speaking easier.
Implant Dentures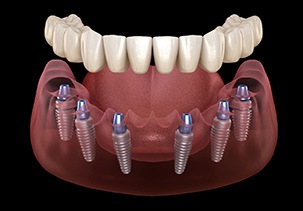 Traditional dentures are at-risk of slipping or shifting within the mouth, but when they're anchored to the jawbone with dental implants, they're unwaveringly strong. The implants are crafted from a biocompatible metal (titanium), that's able to naturally fuse with the bone through a process called osseointegration. The dentures can then be attached to the implants, resulting in a stronger bite force as well as replacement teeth that function and look like natural.
The Benefits of Dentures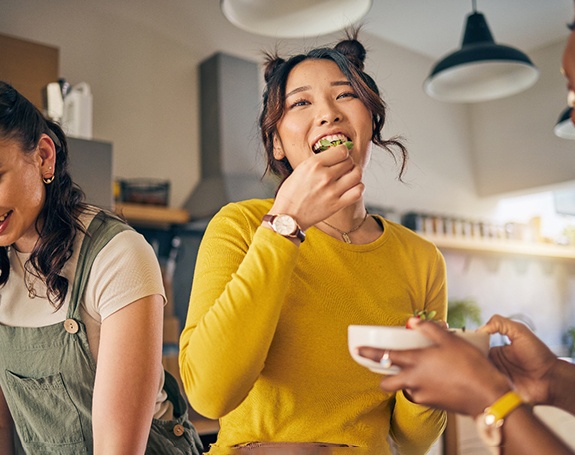 Restoring your smile with dentures from your dentist in Jefferson will provide you with a variety of life-changing benefits, including:
Improve your chewing ability, allowing you to eat a more varied diet and bite down without discomfort.
Cost-effective solution that's great for different budgets.
Custom-crafted replacement teeth designed for each individual patient.
Easy to clean and care for.
Preserve your facial shape, and with dental implants, your jawbone structure.
Ability to last for up to 10 years with proper care, and when anchored with dental implants, much longer.